Setup
---
  A breakdown of the hardware and software I use for making things, or getting things done.
Hardware
---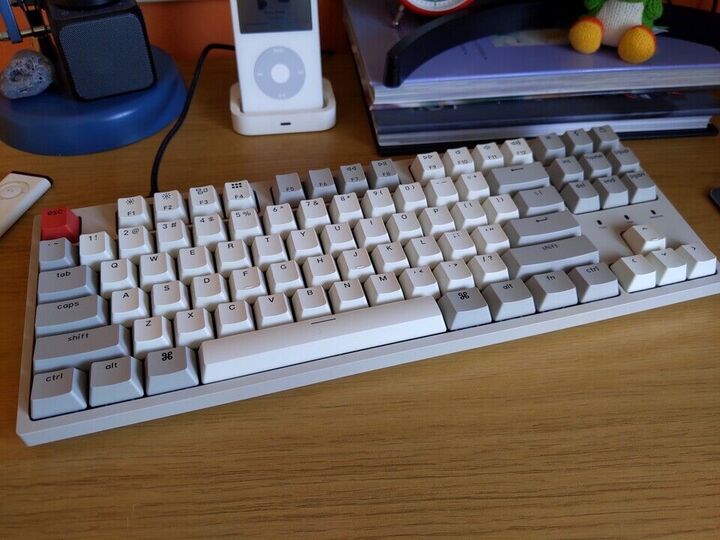 ∘ Lenovo Thinkpad E580 Laptop.
Cpu - Intel Core I5-8250U
Memory - 12GB
Storage - 256GB Samsung SSD
Display - 1920x1080 LCD
OS - Fedora Linux
∘ Keychron C1 Wired Keyboard.   The Keychron C1 is an 85%, Tenkeyless wired mechanical Keyboard. I bought it mostly for it's low price, as well for it's lack of wireless and light-up features. I very much enjoy using it.
∘ Logitech M185 Wireless Mouse.   A well used Wireless Mouse from 2012. Changed the batteries like twice or three times in the past.
∘ Basic Wacom Drawing Tablet.   No tilt detection, but decent pressure levels, 4 tablet buttons and 2 pen buttons. Pen doesn't need batteries which is always a plus.
∘ Google Pixel 3a Phone.
OS - LineageOS 19
Battery - 3000mAh Battery
Camera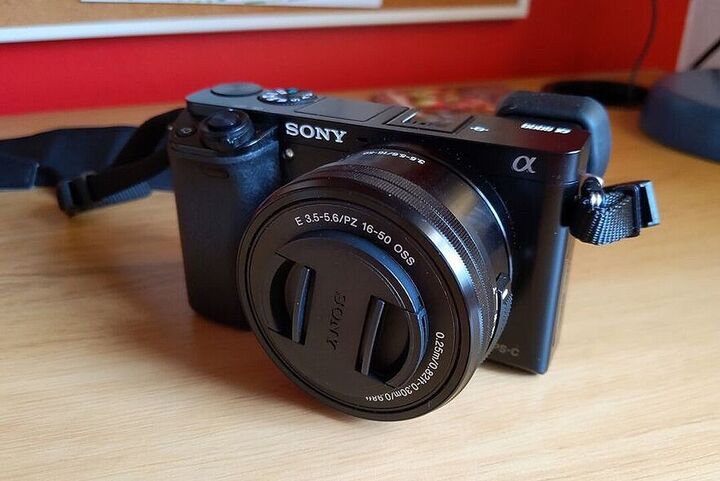 The Sony alpha 6000 is my main camera used for photography. I picked this mainly for it's mirrorless, lightweight build. It has many features I've taken advantage of over the years, like it's remote control app which is fantastic for long exposures with a tripod. I never shoot in RAW, only basic file formats as I don't massively edit the complete photos in a conventional way, which you can read more about in my Trichrome post.
Software
---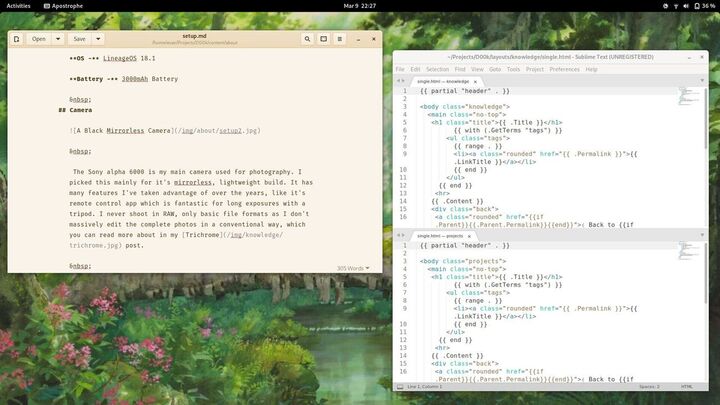 Image Editing
∘ Krita.   A great, open source painting suite that does everything I need from it. I even edit my photos using it!
∘ Inkscape.   Whenever I work with SVGs or need to make diagrams, I always use Inkscape. It just works.
∘ Gimp.   Gimp isn't the greatest of tools these days, however when you need to do specific things (like work with limiting colours etc.) it really comes in handy.
Text Editors
∘ Sublime Text.   When I couldn't stand Visual Studio's massive battery drain, I switched to the wonderful Sublime Text. With some add-ons for highlighting colours and some nice themes, and Sublime Text becomes a clear, simple workspace.
∘ Apostrophe.   A simple Markdown editor that I use for writing posts. Not much else to say about it!